Confused about BPM and process automation? Or do you simply want to unlock the full potential of Business Process Management? Whether you're a BPM newbie or a connoisseur, you can now learn how to automate purchase requests one week, and then discover how to automate HR processes the next.
Ultimus now conducts Weekly Wednesday Webinars (every Wednesday at 1:00PM EDT) to showcase the benefits of BPM Software. Our BPM experts feature a different topic each week to demonstrate how Ultimus can automate any process so you can dedicate more time to your business and customers.
The past few webinars, which have been extremely successful, have taken the audience through Test Drives of the Ultimus Adaptive BPM Suite. Each one not only demonstrated how to automate a different process, but has also highlighted features such as end-user experience, integration with Microsoft SharePoint and process design with modeling.
Additional features of our weekly webinars include an interactive Q&A session, the chance to win a fun prize at the conclusion of the event and the ability to view an archived version of the webinar in case you missed something of interest the first time. Our BPM experts are also readily available after each webinar to answer additional questions.
Upcoming webinar topics include purchase request processes, expense reporting and employee review processes. Make sure to sign up now for webinars with topics of your choice so you don't miss out! Learn how Ultimus BPM can make your day-to-day processes as efficient as possible with reduced costs to help you become the hero in your company.
For any additional information or to view an archived webinar, please contact Chris Haase at chasse@ultimus.com .
See you next Wednesday at 1:00PM EDT!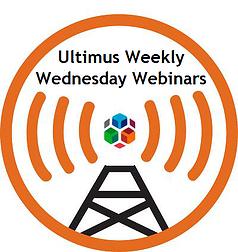 Relevent Links:
Expanding Business Process Communications Outside Your Office
Recognizing Your Need Business Process Improvements
Laura Storjohann
Marketing Communications Specialist
Ultimus Inc.