In today's work environment, approximately 40% of your work force is working outside of the office at any point in time. Modern day work environments include colleagues on business trips or those who work in offsite locations. Moreover, in today's work environment, situational out-of-office situations, such as being sick or on vacation, do not obviate the necessity to communicate with your co-workers. Despite not being located in your company headquarters, your colleagues are vital parts to your day-to-day operations. Effective business process execution in your company requires intra-office and inter-office communication.
Mobile technologies have served as the "glue" to bring together company colleagues no matter where they are. In addition to new employees being issues laptops and desks, standard roll-on practices often include the issuing of mobile phones, PDAs, or beepers / pagers. Mobile technologies allow colleagues to communicate through voice, emails, texts, and alerts no matter where they are.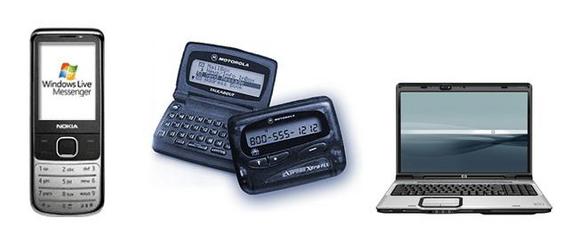 Integrating mobile technologies into the execution of your business processes is important for numerous reasons:
It is inefficient for your process participants to manually recreate emails and redial colleagues through phone calls and/or pages.
History of process communications is a valuable part of the process audit trail. Having a BPM Suite record when process alerts were sent and to whom they were sent becomes part of the process audit trail.
Interfacing with processes is not always performed through "fat" client interfaces. Mobile devices allow process participants quick and simple web based interfaces allow critical processes to be expedited forward.
Despite the current buzz in the
BPM
space with social technology integration (such as FaceBook, Twitter, etc), some business industries are still very much reliant on older, established communications. For example, hospital staff workers often carry pagers to receive alerts to clean patient care rooms. Having such capabilities allows for quicker bed turnover, increased productivity, and less waste (
view webcast on this subject
). Ultimus Adaptive BPM Suite business processes provide business participants numerous choices for interaction with their process tasks:
Alerts through Social Technology sites

Emails
Web based forms
Text Messages
Alerts to pagers and beepers
Voice based messages
Flexible and numerous process communication options are essential to ensure process participants can always remain part of your day-to-day operations. If your process participants are isolated or abandoned from your critical business processes, then you run the risk of those critical processes becoming bottle-necked and stalled. Are you leveraging numerous communication options in your processes today? Are your process participants reliant on emails to get process updates?
Relevant Links:
Business Processes: Recognizing You Need Business Process Improvements
Visibility Into Your Processes Helps You Control Your Costs
Rethink The Ways You Update Your Process Participants
Ultimus Enhances BPM Suite with Twitter Updates for Your Business Process
Chris Adams
VP of Product Development and Technology
Ultimus