Wayne Vaughan
CEO, Tierion
Wayne Vaughan is the CEO of Tierion, a startup that uses the blockchain to prove the integrity and timestamp of any data, file, or business process. He also serves as an Advisor to Blockchain Capital. In 1997, Wayne created one of Connecticut's leading digital agencies. He pioneered the development of marketing automation software and was named one of Connecticut's Top 40 under 40 business people. In 2004, he was a member of the first amateur team to launch a rocket into space.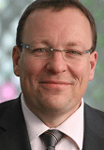 Carsten Neumann
Senior Vice President, Ultimus Enterprise Solutions
Carsten is Senior Vice President of Ultimus, Inc. where he has global responsibility for delivering automated business process solutions using Composed Process Solutions, Ultimus' low-code solutions implementation technology. Prior to joining Ultimus in 2013, Carsten was Director of Tool and Process Architecture, Process Management, Continuous Improvement and Development for Computacenter. He also held management positions at GE CompuNet, Xerox, and Agip.