Low-Code Business Process Automation for the Composable Enterprise

By 2025, organizations running inflexible and poorly performing critical customer-facing business processes will suffer more than a 10% loss in market share due to bad customer experiences.
Key Benefits of Ultimus Composable Business Process Automation
Enable real-time organizational responsiveness and resiliency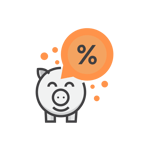 Reduce Business Process Costs by 90%+
Compose AI, blockchain, task automation, integrations into end-to-end solutions
The Ultimus Difference — Power, Flexibility and Reusability Made Easy
Maximize speed, agility, and resiliency with Composed Process Solutions®, the only low-code technology based on composition. Compose custom workflows, reports, and applications from reusable, fully functional digital assets – built-in or customer created. Learn more
Where most low-code tools make it easy to do simple things, Ultimus makes it easy to tackle sophisticated, mission-critical process orchestration challenges – the ones that have the most business impact. Our patented rule-based process engine and multi-dimensional visual tooling gives process owners unprecedented power and flexibility at every level - UI development, task automation, organizational modeling, business rules, process flow, and role management.
Instead of creating individual process islands, our focus is enterprise-wide. Create process families that work seamlessly together, simplify management, and satisfy every business variation. And our novel Ultimus Advanced Task Service/DPA Portal ensures performance and productivity in high volume, multi-process use cases.
Ultimus Flobots® and pre-built UI capabilities allow you to compose content ingestion, blockchain, automated document generation, AI/ML models, integration/events, email and SMS, and other complementary automation technologies into end-to-end business processes. Learn more
Built-in security, best practice, and consistency ensures enterprise-grade results and alignment across the entire transformation effort. And it's the only platform that gives business owners the power to actually run their business, control their processes, and respond instantaneously to new opportunities – without IT or professional programmers.
Ultimus service methodologies are the proven path to customer success. Before you invest, we deliver a custom proof-of-concept that validates our claims, tests your requirements, and confirms an ROI. Our Solution Experts and Premium Partners deliver the early wins that make your transformation effort self-funding. And our support programs include ongoing mentoring services to maximize and document business value and ensure alignment with our technology roadmap. Learn More
ANALYST REPORT
— Analyst and Deep Analysis founder Alan Pelz-Sharpe
READ REPORT
CASE STUDY
Discover how a healthcare provider with several hundred facilities automated financial operations, resulting in an ROI in only three months.
LEARN MORE
CASE STUDY
Learn how a central bank enhanced financial stability by migrating the licensing and oversight activities of all financial institutions to a digital format.
LEARN MORE
VIDEO
This video outlines the pitfalls of many intelligent process automation initiatives, as well as the technologies that can deliver automation faster.
WATCH NOW
GET STARTED
Talk to an Automation Expert
Our business process automation experts can answer your business and technical automation questions.