Ultimus BPM Industry Analyst Reports & Coverage
A recognized leader in the BPM industry
Leading information and process management research and advisory firm Deep Analysis published a vendor profile calling Ultimus "one of the most comprehensive and well-thought-through digital process management systems on the market".
Deep Analysis founder and analyst Alan Pelz-Sharpe stated that the Ultimus Digital Process Automation Suite "has developed into a deep system with an exceptionally broad range of functionality, frameworks, and features".
Mr. Pelz-Sharpe, a 25-year technology veteran and co-author of the book 'Practical Artificial Intelligence: An Enterprise Playbook', described Ultimus' key differentiators: the wide range of pre-configured composable assets that accelerate deployments, user- and role-based task allocation, RPA functionality, and Adaptive Discovery, the patented architecture designed to bridge the "as is" to "to be" transition. An expert in Blockchain, he also recognized Ultimus' built-in blockchain anchoring capabilities, essentially allowing quasi-smart contracts to be incorporated into business processes.
Leigh Michl, Ultimus Chairman & CEO, said "it means a lot that someone of Alan's caliber has acknowledged our vision – to create a platform for strategic automation of critical and complex processes, rather than tactical, point automation".
---
December 2021
Ultimus is recognized as a representative vendor in the 2021 Gartner® Market Guide for Business Process Automation Tools...Read more
---
December 2021
Forrester Research has included Ultimus in their recent report Now Tech: Digital Process Automation, Q4 2021.
According to Forrester, DPA platforms can be used to "1) address basic and sophisticated process and case management requirements; 2) drive faster development cycles; and 3) provide a platform for general-use low-code development".
The report reviews DPA vendors by size, functionality, geographic presence, and vertical market focus to help application development professionals understand what they can expect from each provider.
---
Everest Group Report, October 2021
Everest Group has included Ultimus in their recent report Process Orchestration – State of the Market Report 2022.
The report covers the challenges that enterprises face as they scale up their digital transformation initiatives and how process orchestration solutions help address these challenges by connecting multiple disparate systems and applications while orchestrating tasks between robotic and human workforces.
The report covers the process orchestration market size and adoption trends and provides a detailed view of 14 technology providers' process orchestration offerings and capabilities.
---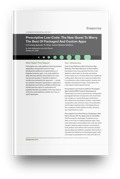 Forrester Research Analyst Report, October 2020
Forrester Research, in their recent report Prescriptive Low-Code: The New Quest To Marry the Best of Packaged And Custom Apps, calls Ultimus one of the vendors driving the concept of "Prescriptive Low-Code", the next advance in low-code software development.
Download the report and learn how this new type of development platform "seeks to combine the best of packaged applications – pre-built and pre-architected solutions to specific business problems – with the best of development platforms – tools to create solutions that reflect what makes an enterprise unique". Forrester calls this new concept's advantages – speed of delivery, application integrity, performance, and flexibility – "irresistible" and forecasts it to catch on in some form.
---

Forrester Research Wave Report, March 2019
Ultimus was included in Forrester's recent report, The Forrester Wave™: Digital Process Automation For Wide Deployments, Q1 2019 (subscription or purchase required for access).
Read this report to learn about the Ultimus software factory approach to digital process automation, how it measures up, and what Forrester recommends AD&D professionals look for in a DPA wide platform.
---
Forrester Research Analyst Report, January 2019
Ultimus was included in Forrester's recent report, Now Tech: Rapid App Delivery, Q1 2019 (subscription or purchase required for access).
---
MWD Advisor's Analyst Report, November 2018
Technology research and advisory firm MWD Advisors has released a review of the Ultimus Digital Process Automation Suite, a comprehensive, tightly integrated digital business automation platform purpose-built for demands of the modern digital enterprise.
In this report, author Neil Ward-Dutton provides an overview of Ultimus in the marketplace as well as detailed reviews of the Ultimus technology and the benefits and "standout strengths" it provides to organizations with large-scale process digitization needs.
Download this free report by highly respected UK analysts, for product analysis, in-depth recommendations, and to learn how Ultimus can transform your enterprise into a streamlined, digital business.
---
MWD Advisor's Analyst Report, October 2018
Blockchain platforms have evolved from their cryptocurrency origins. They are now being built to target enterprise use cases across many different industries (from financial services, through manufacturing and the supply chain, to healthcare, insurance, government, telecoms, and more). They're also becoming far better integrated with business systems and complementary technologies like IoT and business analytics platforms – and coming ready-built as managed services, wrapped in enterprise-friendly tools and utilities to make it easier to adopt in production environments.
Download this report to learn how blockchain technology has evolved, to understand the most important standardization and ecosystem initiatives, and to learn about the work that vendors large and small are doing in this fast-moving space.
---
Techradar Report, September 2018
Ultimus was recognized by one of the largest technology news and review publications for its ability to facilitate digital business automation by extending business processes outside the enterprise with security, transparency, authenticity, and credibility.
This UK-based TechRadar recent publication discusses how digital business automation streamlines business processes for a competitive edge, increases the ability to respond to market trends, and improves customer service.
---
MWD Advisor's Analyst Report, January 2018
Despite what you might think from looking at some analysts' market reports, there's no overall 'best vendor' or 'best product' – at least when it comes to Process Application Platforms. What makes sense for you depends completely on your context. This report shows how certain kinds of customer context suit certain technology vendors, and will help you get started in building a vendor shortlist.
Download this report for product analysis and comparisons, in-depth analyst recommendations, and to learn how you can transform your enterprise into a streamlined, digital business.
---
MWD Advisor's Analyst Report, 2017
MWD Advisors is a specialist technology advisory firm that shows how digital technology changes work; helping today's innovation, architecture and technology change leaders accelerate their success and manage risk.
In this analyst report, MWD Advisors takes a deep dive into the functionality of Ultimus' Composed Process Solutions platform and other Ultimus products, provides analysis of Ultimus' market experience and sales approach, explains packaging, pricing, and deployment options, and lastly provides competitive analysis.
---
Analysts' Praise for Ultimus
"With its Composed Process Solutions (CPS) platform, Ultimus has an offering that should appeal to any organisation that wants to rapidly digitise families of business processes to power digital operations. With a CPS updated offering now available direct to enterprises, Ultimus now gives you the ability to set up your own 'process factory' that you can use to create families of digital process applications very quickly."
- Ward-Dutton, Neil. (2018). Ultimus: Industrialising process digitization. MWD Advisors.
---
"The only vendor today that really understands the value of people and how people create, manage and own process. It is this philosophy and expertise that has made the company a world leader in BPM."
- Gartner
---
"[Ultimus] provides the means for applications to hash and encode process outcome information to a blockchain, thereby providing a timestamped digital fingerprint of that outcome which can subsequently be independently verified to elicit evidence of its existence in that state, at that time – and so providing a distributed, transparent audit trail of business process transactions amongst multiple parties."
- Wentworth, Craig. (2018). Blockchain for business: Vendor landscape. MWD Advisors.
---
"Ultimus is an especially good fit for buyers that:
-Seek Microsoft-based products. Over the years, Ultimus has resisted moving to J2EE and remains solidly in Microsoft's camp. The software is based on Microsoft platforms, and is well integrated with BizTalk, Sharepoint and Office.
-Are based outside the US, or have global operations. Ultimus' work portal supports a remarkable number of languages — 20 in total — and the company has far-flung offices and a strong partner network across the world. The vendor's large customer base helps ensure its ability to provide good support on a global basis."
- Connie Moore, Digital Clarity Group
---
"Ultimus is a no-code BPM product, meaning that, in the majority of applications, there really is no code written by any developers."
- Simon Holloway, Bloor