In an industry that is continuously looking for ways to improve quality of care, patient satisfaction, and financial performance, there are a few key best practices to keep in mind when it comes to technology. Often times hospitals, like other organizations, build up a multitude of systems that lack the ability to communicate and share information. By overcoming this complication through the connection of your systems with a
Business Process Management
Suite (
BPMS
), hospitals can improve their overall initiatives by:
Depending on how well you use and integrate your technology systems, can either hurt you or help you. Connecting point applications to seamlessly share data and communicate with each other is a recipe for success and meaningful use.
Learn more about making the most of Technology in Healthcare, click here to view the following webcast.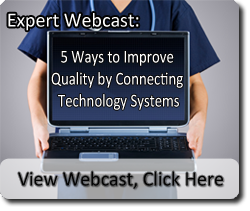 Relevant Links:
Eliminate the black screen: Your Company's New Year's Resolution
Expanding Business Process Communications Outside Your Office
The Challenge Ahead: Putting an End to Wasteful Spending in Healthcare
BPM, the "Glue" Connecting Disparate Systems
Mary Katherine Strupe
Marketing Coordinator
Ultimus