Controlling your business' costs is even more important today than it ever was. In times like these, you must ensure you have a thorough understanding of how you are spending your money and resources. The obvious way money is spent, and the one we can easily "see", is when checks are written to vendors. But the other cost incurred by your business is one that is not easily accounted for: employee efficiency. Time and resources wasted by your employees can represent a significant cost.
By using modeling, reporting, and optimization features in a business process management suite, you will be able to identify inefficiencies in your business processes, understand the costs associated with those inefficiencies, and then make improvements to your business processes to resolve the inefficiencies. Moreover, by optimizing your processes, you will also control the implied costs of executing the processes in themselves.
Take for example the following simple Sales Order process:
Orders are received by a sales order team and recorded electronically in an order database or application
A sales manager reviews all incoming orders (and subsequently approves or rejects them)
An accounting department records the approved order information into their own finance tracking system
Finally, the product is packaged and shipped (and final information about the shipping of the product is then recorded electronically)
If this process is not mapped out graphically and then measured, then it is nearly impossible to analyze the process for inefficiencies and costs. In Ultimus BPM Studio Client, this process could be mapped like the following:

By modeling this process in Ultimus BPM Studio Client you will be able to record the implied cost and resources for each of these steps. Moreover, you will be able to execute this process in a "sandbox" type environment and receive reports detailing such metrics as balance, lag time, cost, etc. Assume the following times and costs for this simple Sales Order process:

With this process now mapped out and with each step in the process analyzed for time and cost, you can see that, on average, for each placed order, there is a implied total cost of $275 to execute the business process in itself. By utilizing the process optimization features of Ultimus Adaptive BPM Suite, you can now make changes to the process to ensure the process executes faster and more efficiently. Below are two examples of process optimization.
By implementing some Ultimus system integration steps, called Flobots, you can replace the manual keying of data into external systems with automated integrations.
To ensure orders are approved on a timely basis (and that the Packing and Shipping department stay busy with fulfilling the orders), more resources should be applied to the Sales Mgr step.
These types of process optimizations will not only reduce the execution time of the steps in the process, but ultimately reduce the internal cost of executing the process itself, as shown below.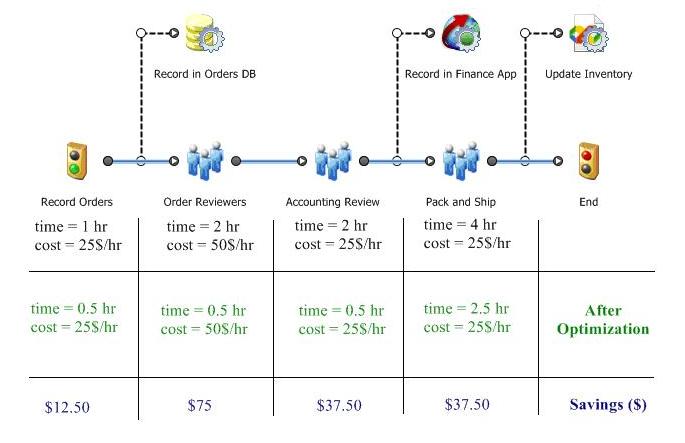 With this process optimized, a savings of $162.50 is now experienced for each incident of this process. This represents a cost reduction of 59%! And if this process is executed 100 times a day, this represents a daily savings of $16,250! As you can see, the savings add up quickly. How could you afford to NOT have Ultimus Adaptive BPM Suite implemented in your company?
Chris Adams
VP Product and Technology
Ultimus