Last week, Ultimus held a webinar in which customer Kevin Smith, Director of Information and Technology at Pentair Water Pool and Spa, Inc., presented his integration of Microsoft SharePoint and business process management as well as his reasoning behind the unification.
Chris Adams, VP of Product and Technology at Ultimus, kicked off the presentation with a brief background on Ultimus, SharePoint and BPM. He rounded out his introduction by explaining how an organization can leverage their SharePoint investing through the use of a business process management platform. Chris pointed out that, "SharePoint is Microsoft's fastest growing tech for three years straight. This morning, I read that there are three million people using SharePoint today. In one way or another, SharePoint has permeated all of our companies and is a good platform to help us conduct our work." Chris stated that BPM extends SharePoint functionality in the areas of document management, application management and portals, information collaboration and document workflows. A business process management tool drives success in dynamic, unstructured processes as well as structured processes, such as a vacation request. Furthermore, BPM provides an enterprise process management solution in one single process management platform.
Next, Kevin introduced himself and gave a brief background of Pentair. He explained that he has twenty years of IT experience, having started in the consulting and systems integration world, he advanced into IT Director positions at several multi-national corporations. He introduced SharePoint in 2001 as an intranet/extranet tool and as a workflow tool in 2002. Upon arriving at Pentair, he quickly introduced SharePoint and, the following year, in 2006, he introduced a BPM tool – Ultimus.
At Pentair, they have branded their SharePoint portal, "The Watercooler", and it serves as a gateway to Pentair's information architecture: social content, ERP, BI, CRM, CMS… the list goes on. They use the tool to structure by department or function, as displayed by the screenshots Kevin presented. Kevin revealed, "Workflow is easy… until you try it. Simple flows aren't usually simple." He noted the fact that SharePoint does have workflow capability but it is not without limitations. These limitations show up when defining a flow - this is where he found the need for a BPM solution.
One highlight of the webinar came when Kevin asked, "How do you know when to use BPM?" This question is often asked and he came up with a Decision Matrix to help define which toolset should be used, given different criteria. The webinar wrapped up with a round of Q&A.
To view the entire webinar and many useful tips from both Chris and Kevin, click play: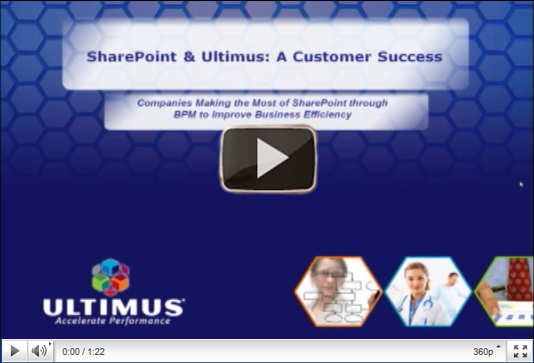 Look for Webinar Recap, Part II next week. The post will highlight the questions attendees asked and our presenters answered. To view the slides (PDF), click here.

Relevant Links:
Business Process Management + Ultimus = Customer Success
Commonwealth of Massachusetts: Expanding on Process Improvement
Taylor Leighton
Marketing & PR Specialist
Ultimus