Business Process Management is often misunderstood as a complex enterprise-wide solution. In my previous blog I mentioned that I believe the advanced features and functionality of a robust BPM Suite tend to cast shadows over the simple functionalities such as workflow. Expanding on this, from my conversations in the field, I also find that many prospects think implementing a BPM Suite means they have to completely change the way the whole business operates. This is not the case.
BPM Software is not specifically designed to redefine the concept of "process" in your entire company. Rather it is designed as a solution to improve the efficiency of your existing business processes. "Efficiency", when it comes to process automation, can represent a number of business goals such as:
Reducing the time needed to execute your processes
Reducing costs associated with your processes
Eliminating wastes
Better understanding the impact of headcount reductions and/or additions on your processes
Improving process functionality
While some processes are departmental and involve work being completed and then sent to a supervisor for approval, quite often processes are cross-departmental in that they span multiple departments and involve many different people.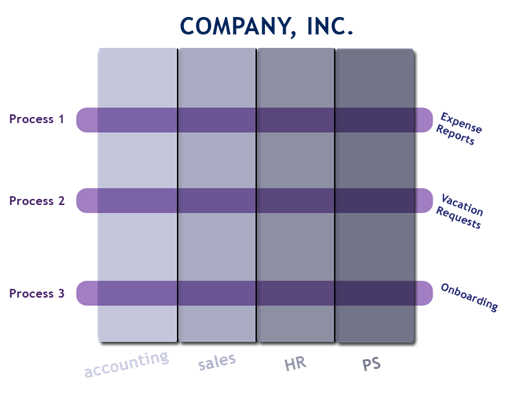 Starting at the Process Level and automating the flow of work from user to user is the true design of BPM Suites. It's when multiple processes throughout your company become automated with a BPM Suite that you start to realize the "enterprise" nature of BPM. It all goes back to the idea of Practical BPM and "Start Small, Think Big". As with any major initiative, it is a best practice to take one step at a time. After all, Rome was not built in a day.
Another area I find where many people get confused is on the ability of BPM to integrate with enterprise applications. While not necessarily an enterprise solution, BPM Software is like a glue for applications and software that currently exists in and span your company. It has the ability to integrate with multiple systems and connect them for the purpose of the process that you are automating. For example, a Vacation Request Process requires HR to reference a database that tracks accrued time off, the request has to be approved, notifications and additional approvals have to be sent to supervisors, noted changes have to be made with HR and sometimes with the accounting department as well depending on the amount of time and the nature of the vacation requested. Regardless, a single process can touch a handful of disparate systems.
It is important to remember that when thinking about purchasing a Business Process Management Suite. Moreover, when thinking about BPM think Process Level rather than enterprise-wide. Focusing on one process at a time has proven success for many clients that I see and work with today. Not only has it allowed them to fully understand BPM and all of its capabilities, it has also proven quick ROI.
Relevant Links:
Don't Just Consider Complex and Complicated Processes for Automation
BPM- A Sustainable Strategy for Your Company
Methodology For Fast ROI with BPM: "Rome Was Not Built In A Day"
BPM As A Foundation For Business Transformation
Mary Katherine Strupe
Ultimus