Manufacturers use the custom quote process to provide their customers with prices for individually customized products, and cost and time estimations for production. The process covers all necessary tasks and decisions from the initial inquiry to quote creation and tracking.
From past experience, we have determined three main challenges that clients have faced in this area:
Weak response times leading to a decrease in customer satisfaction
As time is a critical success factor in sales, clients found their customers and prospects turning to competitors for quotes and orders. Therefore, they experienced a static or disproportional low increase in sales.
Low quote or order rates resulting in high cost per quote
Not all inquiries are suitable for the organization. Providing quotes that are not suitable to customers is as ineffective as being selective about inquiries late in the process. Their closing and quoting rates were low, adding to the cost per quote.
High workload for coordinating quote generation requires additional staff
Coordinating the input from different departments and locations manually, including follow-ups and status updates, created high workload and headcount as well as limited the capability to grow. Client organizations encountered their employees being frustrated by the amount of unproductive and repetitive work they were facing
The custom quote solution addresses these challenges by automatically coordinating the whole process, supporting the organization with automatic checks for profitability and feasibility, controlling time limits and escalations, as well as reporting for greater transparency.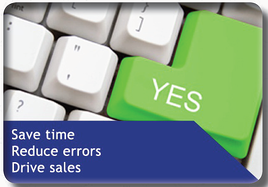 In the past, clients were forced to extend their enterprise resource planning software (like SAP, Oracle and many others) with e-mail, Excel and Word to receive input from the individual departments, calculate prices based on the information provided, and create offers easily. By applying the custom quote solution, companies were able to address these challenges and achieve the following significant improvements:
Response times were reduced from an average of three weeks to 24 hours.
Staff for coordinating quotes was reduced from 15 to 1, allowing the company to instantly allocate 14 resources to customer service.
Number of orders doubled.
If you find it challenging to grow your business for organizational reasons, you may want to look at your quoting process and see if there is room for improving efficiency and customer experience.
Franz Schubert
Director Corporate Business Development