"Start small, think big" is a popular and successful approach to most projects and major initiatives in the business world. The idea of starting small - as it relates to the processes - commonly means focusing your efforts on a single business process, or even on a particular step of a process. Your process does not have to be 100% complete and live to provide value.
Recently, for example, a client wanted to automate a very large, complex process; however, time and budgeting constraints prevented the client from being able to devote ALL of the necessary resources to the project at the present time. Taking, literally, a step by step approach, and focusing on automating and optimizing the individual steps completed by a process participant, the client was able to begin improving their process as well as seeing value in terms of ROI. Specifically, this client found great value in having increased visibility into the process at various steps.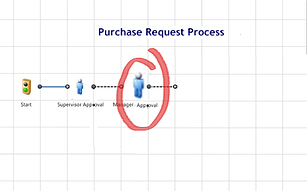 Moreover, having a step by step approach allowed the client to fully understand and automate each individual step, one at a time, to ensure each was working properly before the process as a whole was launched. One of the greatest benefits that can be realized from such an approach is the ability to pinpoint problematic areas. As each step is developed one at a time, any potential issues that arise are isolated to that specific step and thus to a specific few lines of code. When the location of issues and mishaps are easily identifiable, solutions can quickly be sorted out and applied. This allows for the prevention of process downtimeand protects your business from potential threatening, mission critical setbacks.
There is great value to be gained from process solution software that is properly developed and implemented. Starting small and thinking big sets the stage for a successful implementation by:
Allowing process owners and participants to focus their time and effort on the development and testing of a single process step to ensure efficiency at the step level
Enabling optimization of process steps as they are developed, so that when the full, completed process is ready to be launched it is efficient upon deployment
Isolating areas that necessitate improvement or change to a single process step that facilitates updates, support solutions and continued development
Promoting agility in execution
Yielding enhanced visibility early in your process initiatives, providing greater insight into business, process, and individual process step needs
When considering solutions for your business processes, consider a strategy that will best prepare your company for future growth and optimization. Whether you are starting small with a single process or even smaller at the individual steps of a single process, value and merit can be realized early in your process improvement efforts. No matter where you begin, starting small is a best practice for any company looking to engage in process improvement.
Relevant Links:
Mary Katherine Strupe
Ultimus