What is workflow? What is BPM? What are the differences? Can workflow or BPM help me with my business? Despite the fact workflow and BPM have been around since the 90s, people have many questions regarding these concepts.
Do you ever find yourself on a website with questions about pricing, number of user licenses or general BPM inquiries (even after reading through all of the pages / info sheets / blogs)? Well, no more waiting for answers or filling out a contact form - Ultimus announces its new Live Chat feature!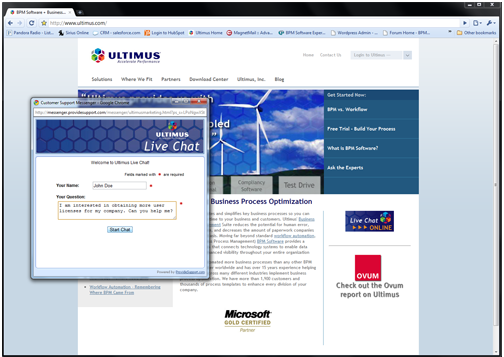 When it comes to software suites with varying numbers of user licenses and purchasing options it is hard to know what the right fit is for your company. Moreover, there is always a question of what is really needed in a software solution and the best way to implement it. Ultimus recognizes this and has team members ready to take your questions and guide you in the right direction for your company's Business Process Management (BPM) needs. With Live Chat any questions submitted during normal business hours will be responded to almost immediately.
Give it a try, click on "Live Chat" on the Ultimus homepage and say hello!
Relevant Links:
Getting Started With Your BPM Project
Using Adaptive Discovery- A BPM Best Practice
Come Join me on the BPM Playground!