Most business champions and IT executives understand what workflow is, and how it can add process automation value to day-to-day company operations. A common theme I see in the field are companies becoming enticed in the workflow features of non-workflow applications. It seems the majority of non-workflow / non-BPM applications (such as CRM, ECM, DMS, etc) are touting that in addition to the core competencies of their applications that users can also build workflows in the applications. You cannot blame companies for being attracted by trying to build workflows in their existing applications for any of the following reasons:
Their data is already there in the application
Workflows are touted as natural extensions to the data
Companies "save money" by not having to secure another application
But while today's workflow problem is seemingly solved, it is tomorrow's enterprise solution needs that will eventually come to haunt them. In fact, the original investments in workflow in their pre-existing solutions will result in significant time and cost waste. By not first identifying and reviewing the benefits of a quality
BPM solution
, companies run the risk of causing more data chaos when facing the fact that their BPM needs are inevitable. Consider the following: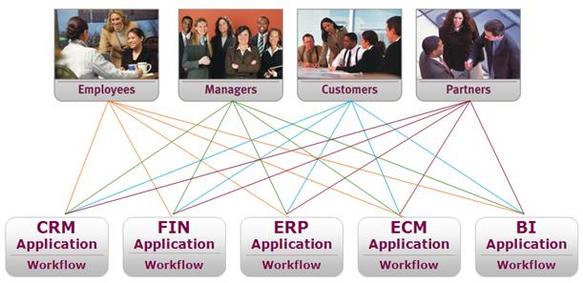 In this situation, the company has built individual workflow processes in conjunction to each point solution application. Arguably, each workflow solution, at a basic level, handles the data unique to that application good enough. But when a more comprehensive, bigger picture view of the company's data is needed, then the company finds that they have to spend extra time and care to collate each applications data into a single report or single view. Aside from the extensive time to perform this data collation, focused care must be taken to ensure data integration errors are not introduced. In the simplest of examples, take a data field like ORDER_TOTAL. Assume that you wish to combine totals from across multiple systems into a single report view. In doing so, you can easily face the following challenges:
In the CRM application, there is no predefined field for ORDER_TOTAL. It must be calculated run time.
In the Finance application, the ORDER_TOTAL field also includes tax (different from the other applications).
In the ERP application, the field is not called ORDER_TOTAL. It is called O_TOTAL.
It is these kinds of headaches where taking the "easy road out" with workflow applications in point solutions can result in long, exhaustive projects. Rather than build islands of workflow, a single
BPM
solution that works in conjunction with the point solutions can best organize your company's data.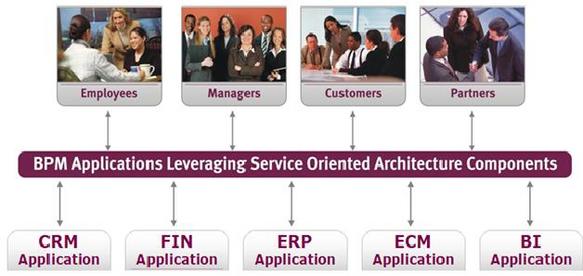 A quality BPMS ensures the right people have the right data at the right time and that the point solutions are left to do what they do best; (and leave the BPM work up to the BPM solution). BPM solutions are built to handle heavy transaction loads and lots of user and system interactions. Introducing workflow to your point solutions can present risk to the point solutions and they can start to fail because of the intensity of data requests (as they were never originally designed for high volume usage). Have you extended your point solutions to also include workflow? If you have done this across multiple point solutions, are you facing situations of data chaos?
Chris Adams
VP Product Marketing and Management
Ultimus