Ultimus eliminates digital process automation vulnerability.
New York, NY – May 2, 2018 – MWD Advisors, a UK-based digital technology research and advisory firm, today published a report on the use of public blockchain technology in automated business processes.
In this report, MWD's Craig Wentworth, a leading expert in "blockchain for business" initiatives, describes how public blockchains such as Bitcoin and Ethereum can create timestamped, immutable, and accessible proofs of the execution and outcome of processes in banking, law, education, and other verticals.
As digital transformation extends processes beyond the enterprise to customers, suppliers, partners, IoT devices, and others; Mr. Wentworth explains that the need to prove the authenticity of documents, decisions, and other data produced in automated business processes becomes critical.

Ultimus' Composed Process Solutions digital process automation platform, selected as the winner of Germany's 2018 IT Innovation Award for its blockchain process capabilities, allows enterprise software applications to be blockchain-enabled, thereby quickly, easily and, by leveraging Tierion's global blockchain proof engine, cost-effectively realizing the vision outlined by Mr. Wentworth.
Mr. Wentworth's full report, as well as an on-line demonstration of the blockchain-enabling capabilities of Composed Process Solutions, is available at www.ultimus.com/blog/MWD or by clicking the link below.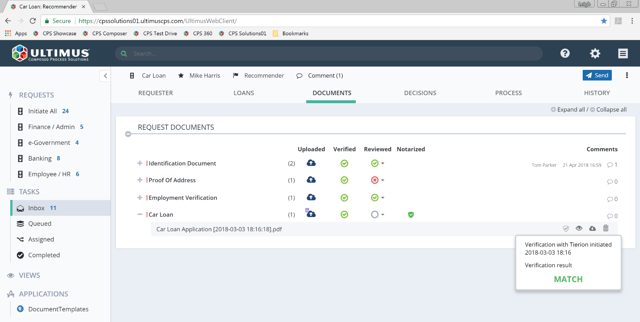 Blockchain e-notarization and proof of business process documents using Composed Process Solutions.