Ultimus is pleased to announce that Ovum has evaluated the Ultimus Adaptive BPM Suite as a top BPM Suite for 2010. Based out of the UK, Ovum is the ICT advisory brand of the Datamonitor Group, with a 25 year history of advising both enterprises and their suppliers on the business value of ICT.

After a product demo, review and a market review, Ultimus was included in Ovum's list of top BPMS providers. From a product perspective, Ovum specifically noted Ultimus' product strengths in Process Discovery & Scoping, Simulation & Testing and Modelling & Design. While from a market perspective, Ovum recognized that Ultimus "is able to appeal to a broad range of customers due to its flexible approach to licensing and deployment as well as an efficient sales model." Ultimus is excited to be recognized for having a strong and robust BPM Suite and providing BPM success for customers and partners across the world.

Ultimus Adaptive BPM Suite v8 is allowing our long-standing customers and partners to evolve their existing workflows into true business processes by taking advantage of the numerous product enhancements and evolutions in Ultimus v8. For example, Ultimus Adaptive BPM Suite v8 provides a powerful and easy to use continuous process improvement platform, "Adaptive Discovery".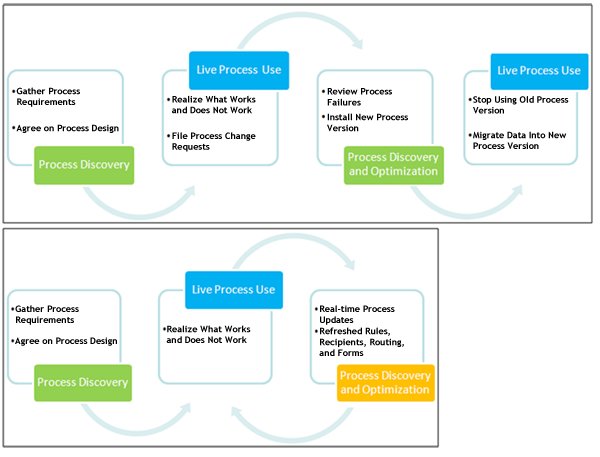 While classic process improvement methodologies include serialized steps of process discovery, execution, measure and review, and subsequent rediscovery and optimization, Ultimus' continual process discovery methodology allows all players in the process lifecycle to take part in process optimization. Moreover, Ultimus business processes never have to be taken "offline" in order for process improvements to be made. Via the Ultimus Adaptive Discovery platform, process bottlenecks, inefficiencies, and routing errors can be corrected and optimized real-time. Live running process incidents can be updated immediately and continuously, thus ensuring the process becomes "smarter" the longer it is utilized and ultimately saving your company time and money by ensuring your business processes are always running optimally.

With a process improvement methodology in place, your business processes today can quickly become outdated and inefficient. Companies cannot afford to take the "wait and see" approach with business process execution, where only after waiting weeks and months to collect and review process data is it found out that the business process model is failing. Do you have a process improvement methodology in place today? Better yet, can you afford to not have one?
Chris Adams
VP Product and Technology
Ultimus