Analysts
Ultimus Named a Contender in Digital Process Automation for Wide Deployments by Independent Research Firm
Forrester Research named Ultimus a contender in Digital Process Automation. Ultimus was ranked with the top score for Tooling for Platform & Application.
---
Ultimus top ranked in Tooling for Platform and Application criterion
New York, NY – May 7, 2019 — Ultimus, the long-time BPM technology innovation leader and winner of Germany's 2018 IT Innovation Award for BPM, today announced that Forrester Research has named Ultimus a contender in The Forrester Wave™: Digital Process Automation for Wide Deployments, Q1 2019. Ultimus received its highest scores in Current Offering, one of the three main evaluation categories, and was ranked with the top score for Tooling for Platform and Application.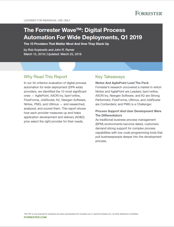 In their report, Forrester noted that "The role of process in successful digital transformation continues to grow, and the sheer volume of software it takes to address the overall requirements for it is exploding." Forrester's digital process automation for wide deployments (DPA wide) category is "all about rapid development of process applications" and includes providers of low-code tools focused on driving up adoption through lower cost and complexity.
In their 30-criterion evaluation of the 10 most significant DPA providers, Ultimus received Forrester's highest possible score in the criteria of Tools for Coding, Case Management, Identity and Access Control Tools, Application Scaling and Performance Tools, Platform Administration and Configuration, and Application Monitoring and Management.
According to Forrester, "Ultimus describes its approach as a software factory. It defines commonality between a large array of application types and leverages common development capabilities across areas like integration, form design, and mobile support... The tools focus primarily on professional developers who want to build apps more quickly than possible with traditional coding tools. Ultimus' strategy is to support its customers through professional services to help them get up to speed."
The Ultimus Digital Process Automation Suite is a comprehensive, integrated digital business automation platform purpose-built to enable pervasive, seamless, enterprise-scale, end-to-end process digitization – across all devices, regional permutations, and use cases. The platform includes Composed Process Solutions, a unique "generative" low-code process applications Factory; the patented, industry-leading Ultimus Adaptive BPM Suite; and Ultimus Advanced Task Service, the only technology that ensures the productivity, performance, and scalability of in-production business process applications.
(Subscription or purchase required for access)