Juggling numerous construction projects can be challenging. Fortunately, technology innovations such as digital process automation (DPA) have been delivering real business value to governments, healthcare providers, retailers, and other multi-facility organizations in recent years by reducing the cost and effort of managing project approvals, budgets, contracts, payments, and change orders and capturing incentives and rebates.
Ultimus' Construction Management Framework, based on the industry leading Ultimus DPA Suite, provides the integrated, fully functional foundational workflows, reports, and dashboards that give construction project owners the power, flexibility, and control they need to keep projects on time and on budget.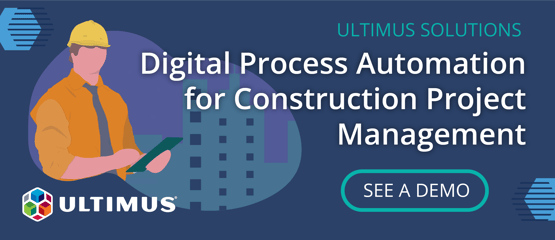 What are the advantages of Ultimus' DPA-based Construction Management Framework over packaged construction applications?
A less than one-year payback by switching from dedicated construction products to Ultimus.
Unmatched flexibility to meet customer-specific requirements - business rules, process flows, approval matrices, turnaround times, and escalations – without expensive custom development.
Seamless operation and data sharing between construction processes, other business processes, and external systems eliminates redundant data and data entry errors, invoice payments that exceed contracted maximums, or contracts that exceed project budgets.
Improved project visibility and data management.
Exceptional time-to-live and business value.
Sign up for a personalized demo and get a calculation of the ROI you'll get by implementing Ultimus.