Ultimus Digital Process Automation (DPA) Solution Starters, free to Ultimus customers, are functional business process automation solutions that are readily configurable to meet the most demanding enterprise requirements.
The Ultimus COVID-19 DPA Solution Starters showcase the advantages of digitizing processes with an automation platform over packaged applications as well as the unique benefits of Composed Process Solutions over other low-code approaches.
According to Forrester Research's recent report Prescriptive Low-Code: The New Quest To Marry the Best of Packaged And Custom Apps, the COVID-19 experience "turned on its head conventional wisdom that starting with a package and then customizing is the fastest way to acquire software solutions". Instead of waiting for new COVID functionality from big application vendors or customizing existing packages to meet the new needs, the Forrester report noted that low-code and DPA platform vendors could quickly release "mostly free full solutions, sample apps, and solution accelerators that customers of their platforms could install, configure, and customize to deliver solutions, often in days".
The Ultimus Digital Process Automation Suite's Composed Process Solutions low-code environment goes a step further: composing solution families (in this case COVID-related processes) from reusable digital assets and prepackaged business content, instead of developing each individual process application from scratch.
Ultimus COVID-19 DPA Solution Starters include:
Return to Work Authorization
Work from Home Request
Device Removal Request

Covid Incident Report
Daily Employee Attestation
Visitor Attestation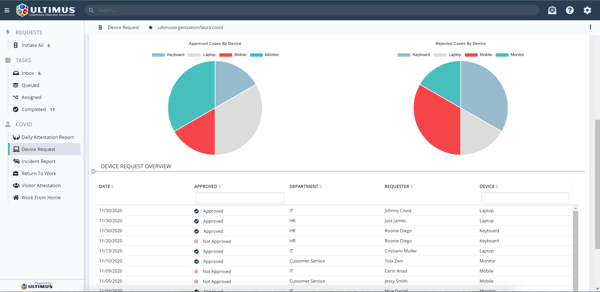 Leigh Michl, Ultimus Chairman & CEO, stated "Composed Process Solutions was designed so customers could realize digital transformation through the pervasive automation of internal and customer-facing business processes. By applying modern domain-engineering principles to "industrialize" the production of software, delivery of complex, highly tailored applications is not only faster, cheaper, and more consistent, it creates families of solutions that interoperate and are easier to manage".