Download PDF Version
Background
Ultimus Client: A United States County Government
Industry: Public Sector
Solution: Human Resources Automation

County government is the public administration of a county, borough, or parish. County governments are usually the largest political subdivision within a state and, although variable from state to state in the United States, their main function is to administer state laws. Since some counties even collect their own taxes, they may have important powers and responsibilities in the administration of a particular geographic area.
Ultimus has successfully deployed several Composed Process Solutions-based processes for numerous county governments. One customer in particular, a county in Virginia that employs approximately 3,600 people in 37 agencies that serve public works, fire and police response, and social services, has automated numerous Human Resources processes with Ultimus Composed Process Solutions (CPS) with excellent results.
Challenges and Opportunity
In an effort to speed up and streamline operations, simplify solution management, and improve employee experience, this customer sought to consolidate HR processes into a single interconnected solution family using CPS.
The customer realized that success required overcoming several key, yet common, business challenges relating to Human Resources:
maintaining staffing levels despite rapid employee growth;
retrieving information in a timely manner;
speeding requests, approvals, and decisions;
providing visibility into the status of request activity;
maximizing employee productivity and cost effectiveness; and
having an intuitive, modern, and mobile-ready user experience.
Realizing these challenges could not be met with conventional process automation technology, this entity selected Ultimus Composed Process Solutions as its experience, automation, and rapid innovation platform for digitizing Human Resources.
With eight processes already running on Ultimus BPM Suite Version 7, this customer upgraded to the latest Ultimus technologies, including Ultimus Composed Process Solutions, and automated two additional new processes with CPS. Their main reason to upgrade was to benefit from a technology designed especially for digital transformation.
Solutions Overview
HR Evaluation Merit Process: Used countywide to process annual employee evaluations
HR Accruals Process: Automates the process of personnel wage changes, stipends, and car allowances countywide
HR Acting Pay: Used to process interim wage change approvals when an employee is acting on behalf of another employee, based on absence, open position, or some other factor
PAF – Separation: Processes termination of employment countywide
PAF – HR -Separation: Routes employee separation notices automatically to HR payroll for the termination of employees
PAF – New Hires: Automates new employee onboarding
Transfers: Automates the process of employee position transfers
Purchase Requisition Process: Automates the Police Department purchasing process
Department Notifications: Provides automated reminders of required upcoming employee evaluations
HR Form Vacant Reclassification Process: Automates internal approvals on vacancy reclassification and changes vacancy parameters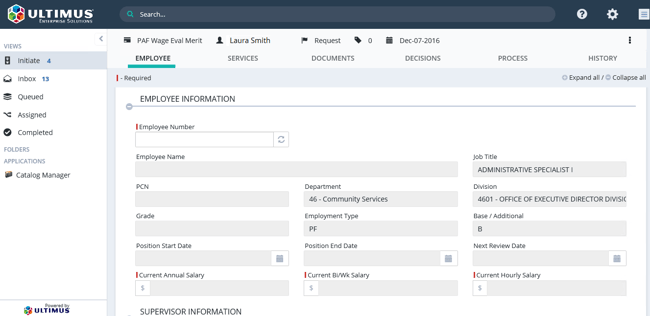 Why Composed Process Solutions?
CPS was the clear choice for this county government. Key elements in this decision were:
fully mobile-ready forms with no additional effort;
a seamless integration with Ultimus Advanced task service for maximized end-user portal experience and performance and scalability at high volumes usage;
a generative low-code development approach - purpose-built for digital transformation - that significantly reduces implementation time and simplifies and streamlines solution management;
a consistent user interface that significantly reduces training and knowledge management for their 4,500+ users; and
the ability to use the latest Ultimus and Microsoft technologies.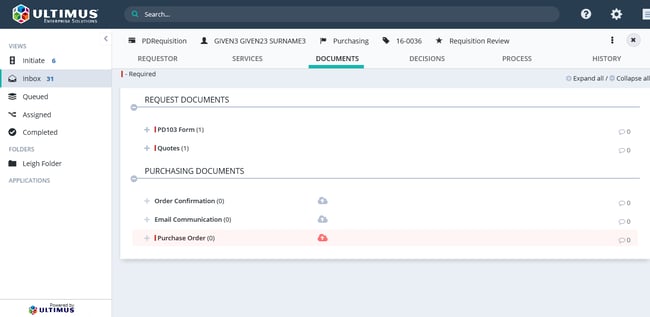 Key Benefits and Measurable Results
With Ultimus CPS, this government county achieved their process automation goals, serving around 4,500 county users. Solutions such as Purchase Requisition were implemented from start to finish within 2-3 weeks and included the ability to handle multiple end-user device types. Three of their HR processes were implemented in 1 month and included powerful catalogue management for different departments and users. Within the first few months of production, their Wage Evaluation process exceeded over 5,000 requests, becoming their most used solution. This customer's automated solutions resulted in increased visibility to HR and department managers, and improved customer, employee, and management satisfaction.