Download PDF Version
Background
Ultimus Client: Not Disclosed
Industry: Healthcare
Solution: Patient Refund Approval, A/R Write-off Approval, Bank Account Reconciliation, Monthly Expense and Revenue Account Reviews

An Ultimus customer that provides a broad spectrum of post-acute healthcare, nursing, and assisted living services from several hundred facilities located across many U.S. states was faced with the challenge of automating several complex and mission-critical processes in this regulated and document-intensive industry.
Challenges and Opportunity
As a large and geographically dispersed enterprise, this customer realized that automated business processes were essential to ensure the timely and accurate preparation of financial reports, as well as adherence to proper financial controls and policies.
The customer recognized that business process automation success required:
Eliminating siloed business process data
Reducing user training requirements, support calls, and errors
Responding rapidly to an ever changing regulatory and business environment
Meeting highly complex requirements without expensive, hard to maintain custom coding
Integrating with multiple external systems
Visibility into process activity, performance, and business improvement opportunities
Productivity, performance, and scalability of in-production processes.
Concluding that these challenges could not be met with conventional process automation technology, the customer selected the Ultimus Digital Process Automation Suite to digitally transform their financial operations.
What is the Ultimus Digital Process Automation Suite?
The Ultimus DPA Suite is a comprehensive and tightly-integrated digital business automation platform comprised of Composed Process Solutions, Ultimus' unique generative low-code application development technology, the patented Ultimus Adaptive BPM Suite, and Ultimus Advanced Task Service, the only technology that ensures the productivity, performance, and scalability of in-production business process applications.
The Ultimus DPA Suite is proven in its ability to meet the most sophisticated enterprise requirements. In addition to its industry-leading business process and production scaling capabilities, its Composed Process Solutions technology allows organizations to create a "software factory" that generates highly sophisticated, tailor-made software applications, 360-degree data views, reports and dashboards, user activity/audit reports, business-user process control interfaces, and integrations with exceptional speed, consistency, and quality.
Unlike other low-code software technologies, CPS uses the same "industrial" principles that have produced order of magnitude improvements in delivery time, quality, and cost in virtually every other industry – except software development. CPS uses (1) a common, standardized architecture and pre-built, interchangeable, and pre-integrated parts; (2) an "ordering" system to specify the requirements of an application or family of applications; and (3) a generator that merges the requirements and domain model in real time when the application is called.
The CPS approach:
Provides unmatched, multi-level reusability and inherently enforces best practice;
Ensures that applications are consistent in their construction, implementation and UI; and
Produces applications that

work together, share data, and can be managed as families; rather than individual point solutions;
Function on any device and browser without additional effort; and
Are easily localizable and adaptable for any use case.
14 Solutions Delivered in 5 Months!
The customer initiated their Ultimus training in mid-December, and within five months, had 14 Ultimus-based solutions in high volume production including:
Patient Refund Approvals,
Accounts Receivable Write-off Approvals,
Bank Accounts Reconciliation Process,
Monthly Review of General Ledger Expense Accounts Process,
Monthly reviews of Revenue Accounts Process, as well as
9 report, dashboard, and data entry applications.
Using CPS's extensive array of reusable digital assets, the customer was able to complete the development of their first CPS process in a matter of weeks. And because all customer solutions, solution data, and content are automatically added to this pool of reusable assets, development time for subsequent solutions was even faster. In fact, their fourth and fifth business processes were developed in 1 day and two hours, respectively.
Key Benefits and Measurable Results
In the first four days of production, the customer rolled out its initial five processes to over 1,000 end users, processed 751 refund requests, and completed the approval of 405 A/R write-offs – and estimated that their ROI would be as little as three months. The key drivers of this exceptional ROI included:
Low initial investment: Rapid delivery and reusability translate into lower costs;
Greater productivity: A consistent, highly intuitive interface and built-in validations, error checking, and end user help reduced form completion time from 15 to 30 minutes to five minutes or less - and reduced training requirements, support calls, rework, and errors;
Greater process visibility: The customer was able to identity the root causes of write-offs and process bottlenecks;
Fewer duplicate and erroneous refunds and a faster refund turnaround time that improved customer satisfaction; and
A streamlined, well-document financial closing process with improved compliance and increased reporting confidence.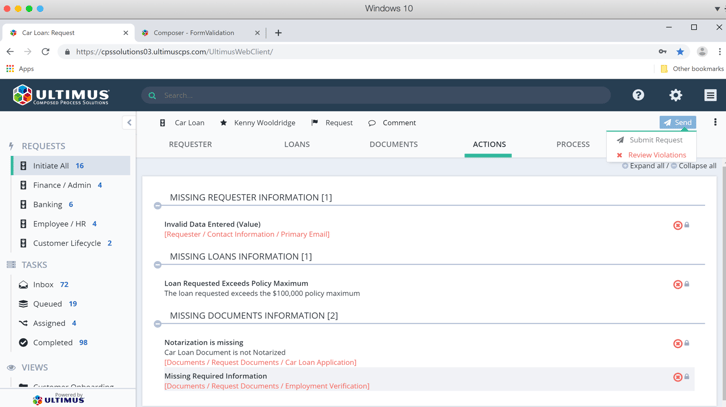 Ultimus built-in validations, error checking, and end user help