Summary
Carsten Neumann of Ultimus introduces Composed Process Solutions®, a new "industrial approach" to low-code development, and describes how automated manufacturing – generating software from business requirements - produces unmatched improvements in application delivery time, quality, manageability, cost - and business value.
Presented by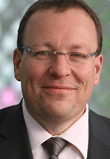 Carsten Neumann
Senior Vice President,
Ultimus Enterprise Solutions

Carsten Neumann joined Ultimus in 2013 as Senior Vice President – Enterprise Solutions and has responsibility for solutions delivery. Carsten has over 15 years of experience building and leading enterprise-scale managed solutions provider operations and designing and implementing process improvement solutions. Prior to Ultimus, Carsten was Director of Tool and Process Architecture, Process Management, Continuous Improvement and Development for Computacenter. He also held management positions at GE CompuNet, Xerox, and Agip.