Summary:
This video, recorded live as part of a webinar featuring guest speakers Rob Koplowitz, Vice President and Principal Analyst of Forrester Research, Brian Patsy of PROceed BPM, and Usama Mehmood, Director – Enterprise Solutions - North America, Middle East, Africa of Ultimus, shows a brief Digital Process Automation Demo.
Usama Mehmood presents the Ultimus Composed Process Solutions vision of Digital Process Automation: Replacing today's notion of business process automation – doing what we do today in electronic form – with a new notion – turning business processes into digital assets that can be composed and recomposed on demand for ongoing business transformation.
Presented by: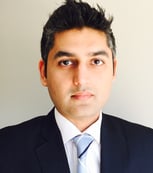 Usama Mehmood
Director –Enterprise Solutions - North America, Middle East, Africa
Ultimus, Inc.
Usama Mehmood heads Professional Services and Delivery for Ultimus North America, Middle East, and Africa. In this role, he focuses on professional services strategy, customer satisfaction, and P&L for the regions. A London School of Economics alumni, Usama has held management positions with several Fortune 500 companies and has directed the delivery of services projects across the globe.