Improved mobile capabilities let you stay connected to your business process tasks — anytime and anywhere.
Ultimus Advanced Task Service (UATS) is an innovative service layer between one or more Ultimus BPM servers and Ultimus DPA Portal, our end user solution portal. With Ultimus Advanced Task Service and WebClient, Ultimus moves beyond the boundaries of traditional BPM suites to ensure the performance, usability, and productivity of in-production business process solutions.
The latest version includes: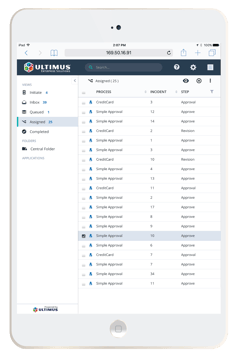 Fully localized solutions, including localized process and step names, and localized graphical and textual process statuses
Greatly improved usability on mobile devices
Rule-based organization of Initiation Tasks in folders allowing a structured, folder based representation, in addition to the standard all-in-one overview
Built-in support for key Composed Process Solutions (CPS) capabilities including CPS Standardized Request & UI Service and CPS Solution Bus
New localization administration interface
Optimized synchronization between Ultimus BPM Servers and UATS for heavy load environments and multi-BPM server architecture
Support for new technologies such as Microsoft SQL Server 2016 and Oracle 12c
Additional performance enhancements, features, and fixes
We take our commitment to customer success seriously and, as a result, the first step in implementing or upgrading the software is to schedule an advisory call with an Ultimus Support member.
To access UATS, please fill out this form with all of your customer information. We will then contact you at your requested day and time to introduce the new version, answer any questions you may have, and walk you through the correct steps you will need to take in order to proceed if you qualify.