SOLUTIONS BY APPLICATION INTEGRATION
Ultimus DPA Suite and Microsoft SharePoint Integration
Overcome Your Limitations
Microsoft SharePoint is a widely used technology, present in nearly 80% of corporate IT environments. While popular for collaboration, intranet, and document management, SharePoint has limitations in enterprise business process use cases that cause profound problems in common, real-world situations.
Ultimus Digital Process Automation Suite provides a variety of ways to overcome these limitations and leverage SharePoint's strengths. In fact, the patented Ultimus DPA Suite is one of the most robust, feature-rich, and proven tools for creating structured and unstructured human- and document-centric process applications – applications that fulfill the most sophisticated, mission-critical, and large-scale organizational requirements.
Built-in Document Capabilities
In addition to unmatched routing, task assignment, notification, escalation, and exception handling options and features, Ultimus DPA Suite provides configurable out-of-the-box document management capabilities that handle every document-centric process need.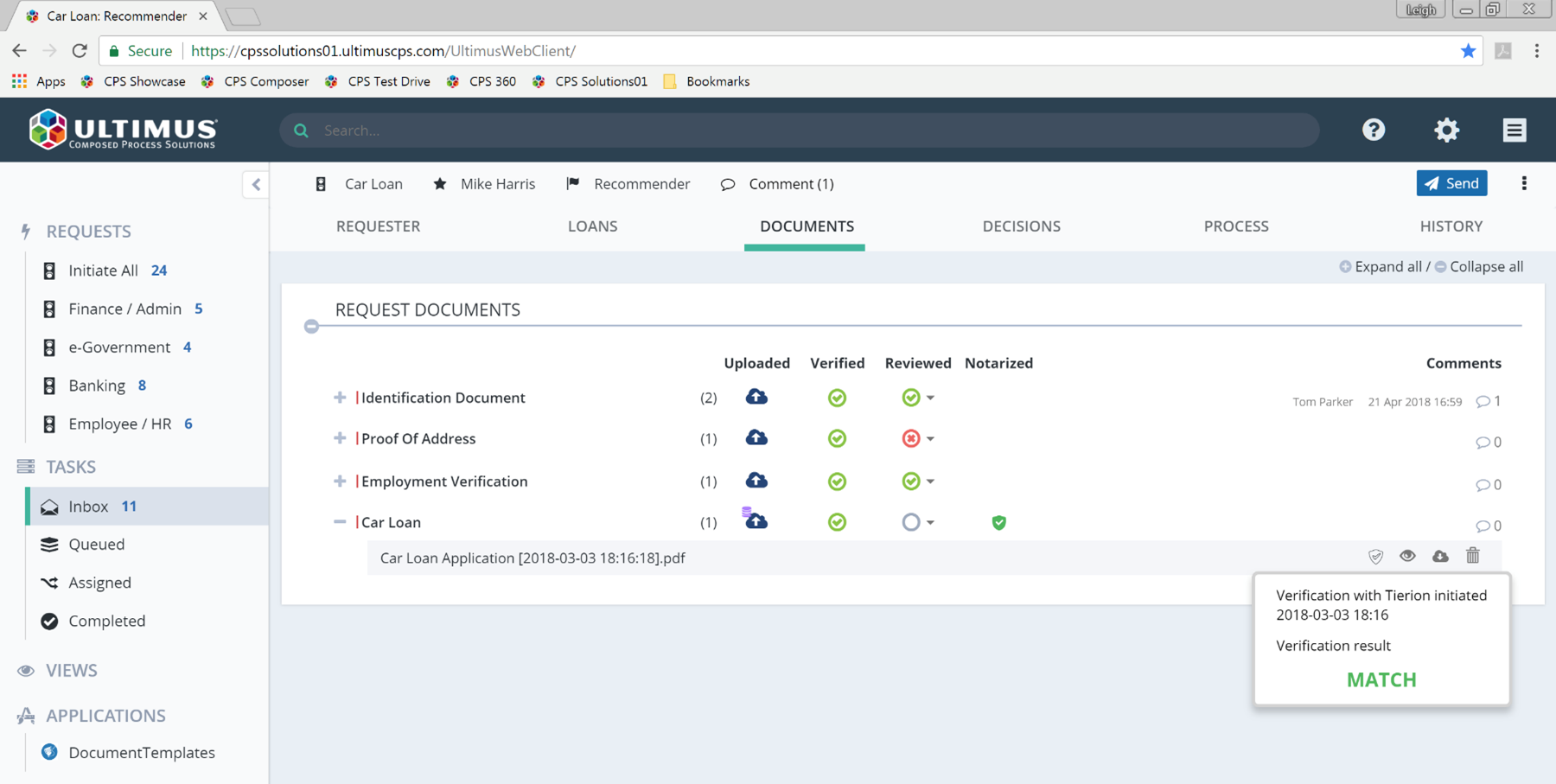 A loan approval process showing built-in, intuitive document functionality.
These highly intuitive built-in document capabilities include document checklists; document upload/download/viewing; document generation; user document review, verification, and commenting; document validations and rules; histories of document-related activity; document blockchain anchoring/proving; document reuse; file name/business concept mapping; and integration with SharePoint and other popular ECM systems.
SharePoint Integration
Ultimus DPA Suite offers three powerful, pre-built SharePoint and ECM integration options that cover the full range of requirements:
CPS Adapters for form-level interaction with SharePoint;
Ultimus FlobotsTM, our unique point and click trainable rapid integration "workflow robots", for process-level automated activities and background tasks such as storing and retrieving documents from SharePoint, attaching documents to cases and process incidents, and attaching documents to automatically generated emails, SMS messages, or other notifications; and
Ultimus EIK/Web Service that allows Ultimus functionality to be deployed in custom SharePoint solutions.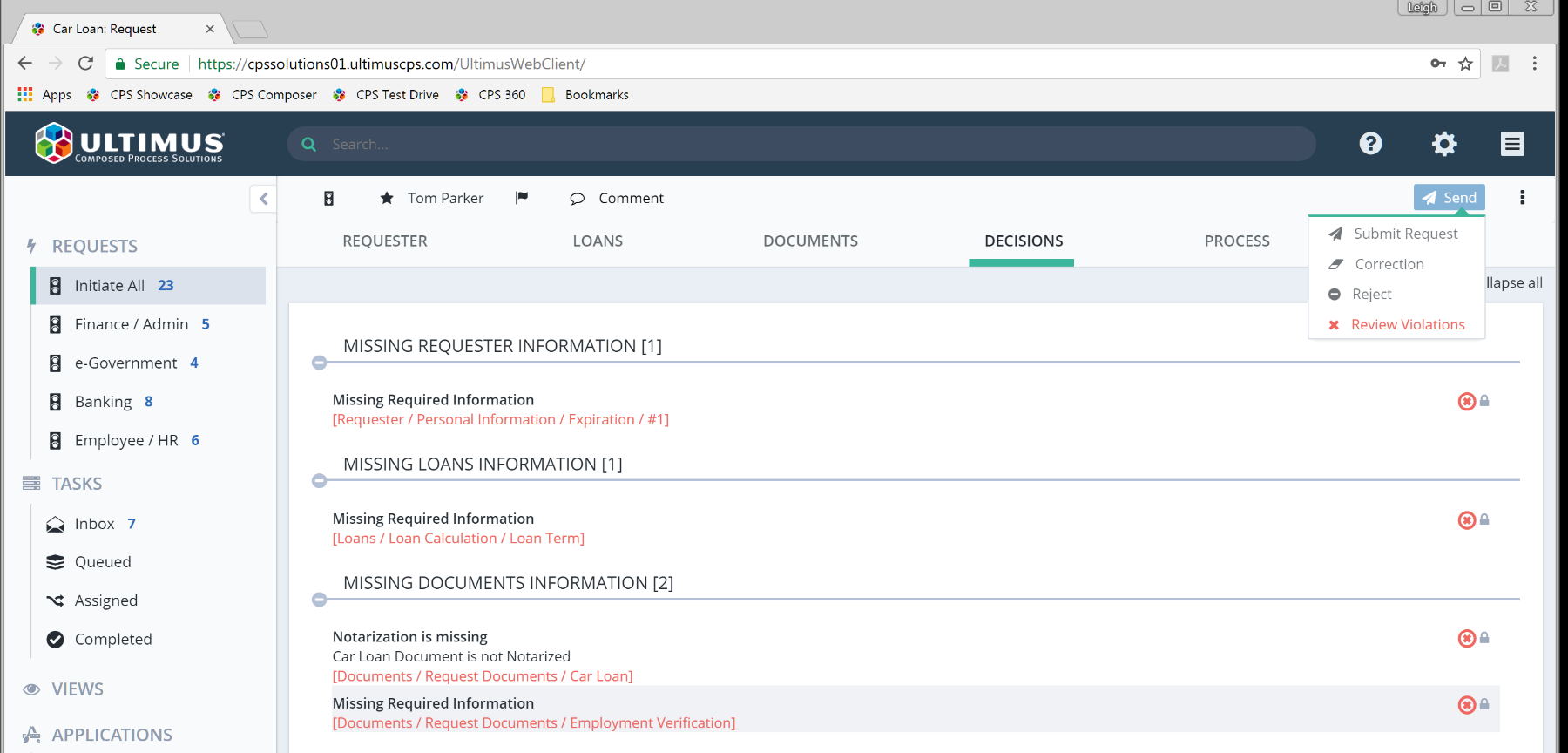 Ultimus DPA Suite's document rules and validations are built-in and automatic.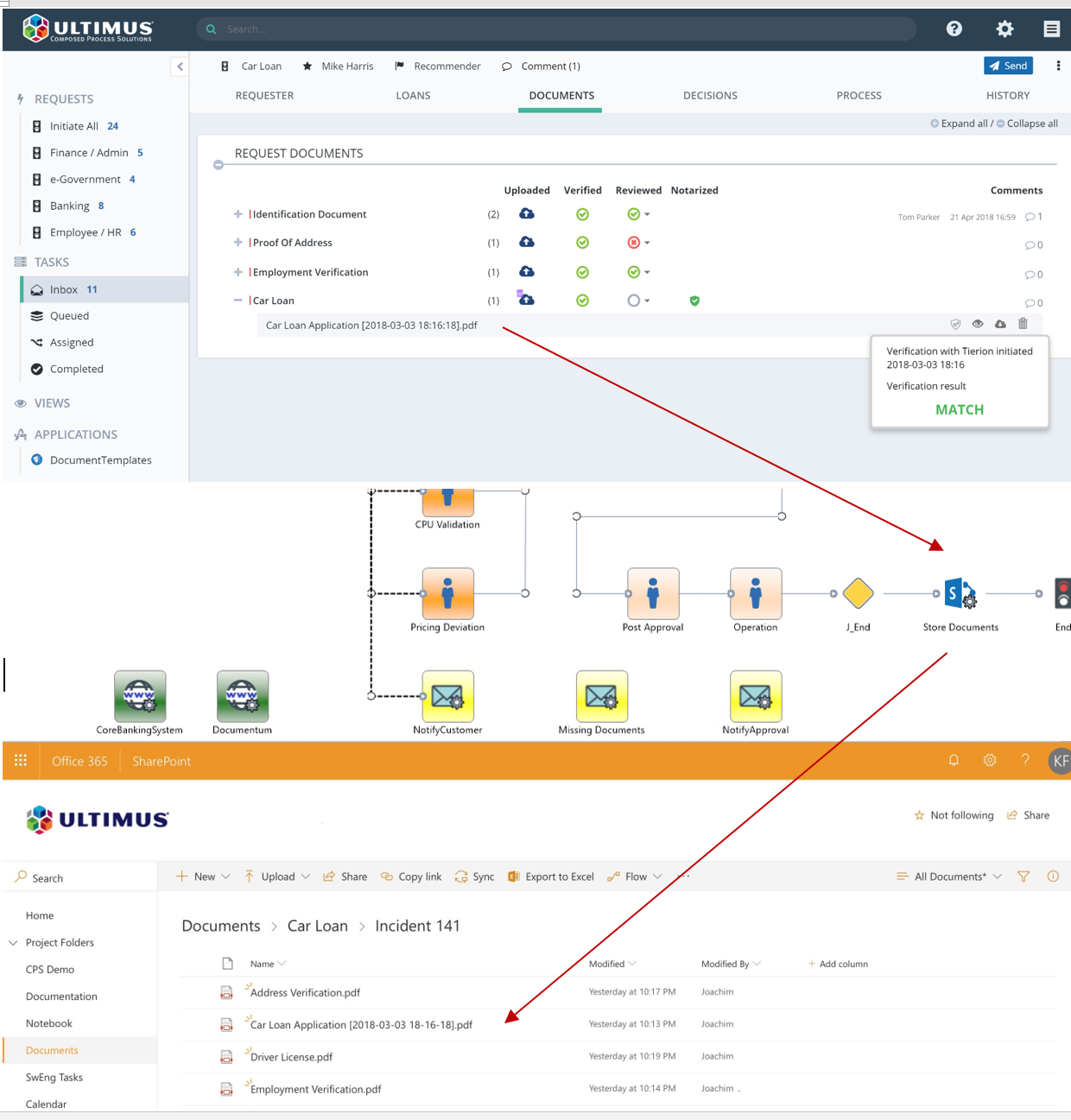 Example of automatic document storage in SharePoint.
Benefits:
Ultimus DPA Suite gives organizations the best of all worlds: The ability to develop powerful, flexible, and highly-intuitive business process software applications with incredible speed while easily leveraging SharePoint's powerful "system of record" capabilities.
Ultimus SharePoint integration strategy maximizes business agility, effectiveness, efficiency, and customer experience by:
Eliminating costly, complex, and inflexible SharePoint customizations;
Speeding delivery with powerful, pre-built document functionality optimized for usability;
Eliminating fragile, inflexible, and unreliable point integrations;
Facilitating document reuse, traceability, and verification;
Replacing isolated solution islands with solution families that inherently work together, share data, and can be managed as one larger application; and
Enabling pervasive, seamless, enterprise-scale, end-to-end process digitization – across all devices; regional, product, and business scenario permutations.

Ultimus FlobotTM automated integration agent options.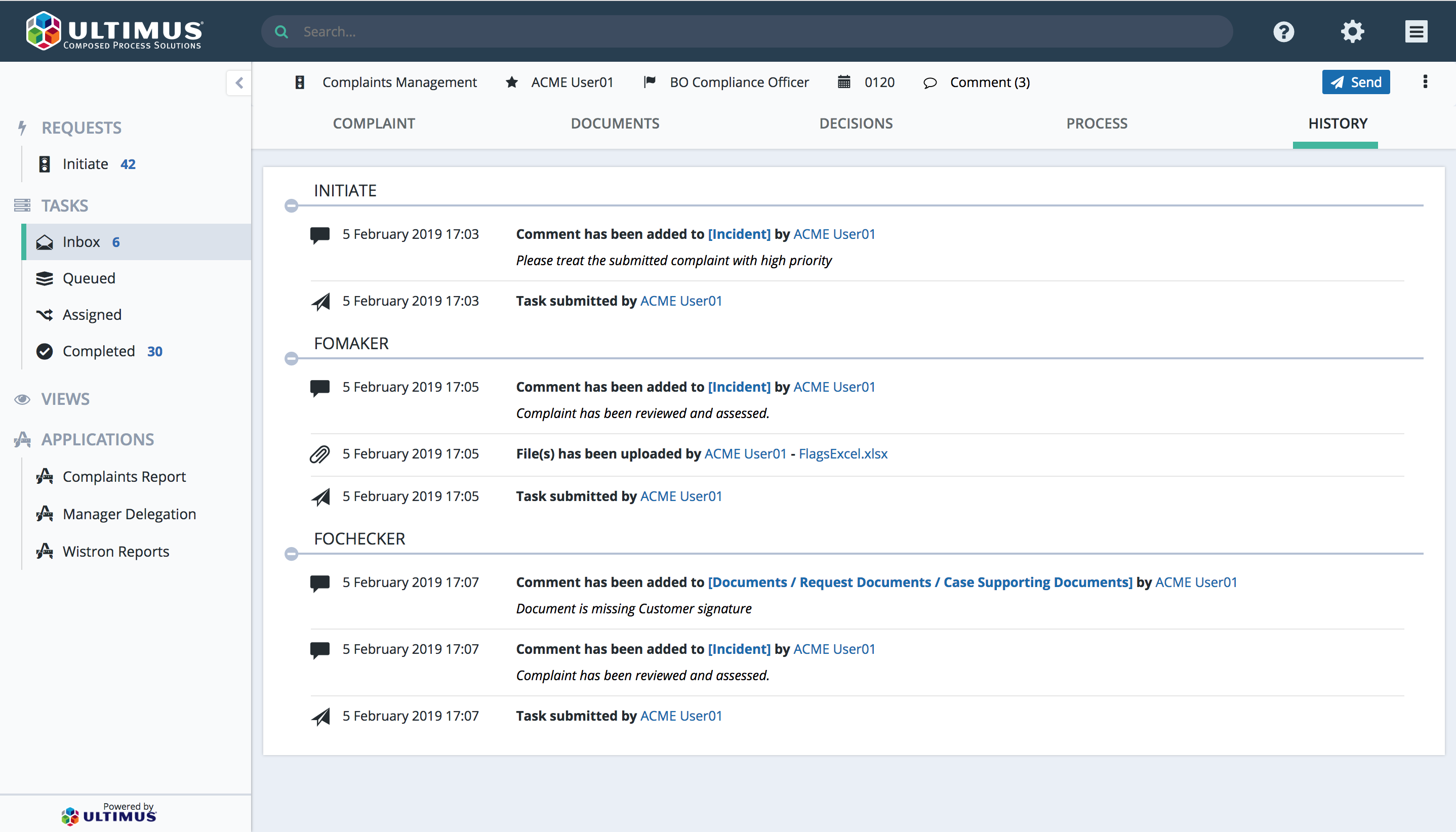 Complaint Management process showing out-of-the-box process and document history.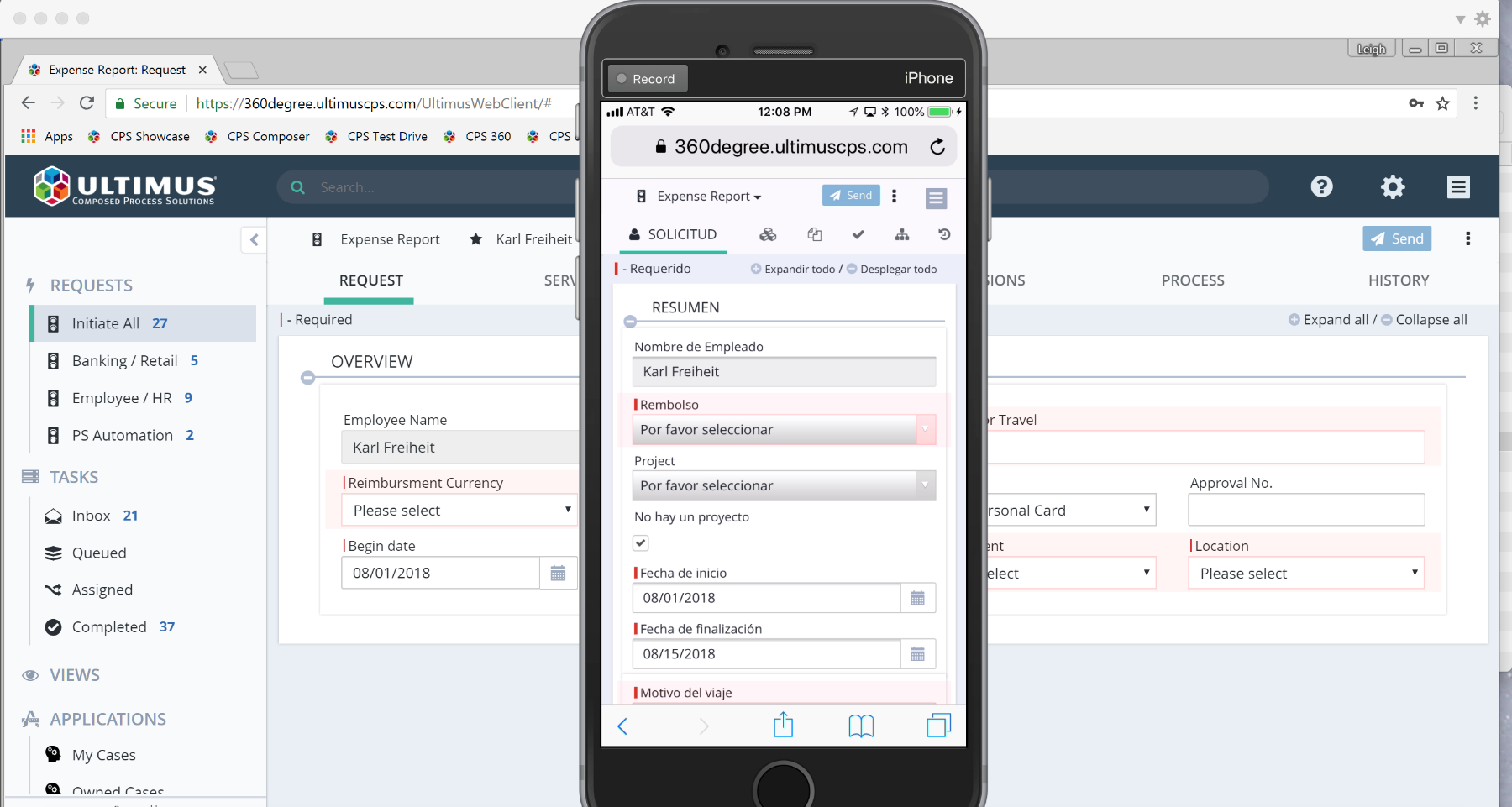 Ultimus DPA solutions are mobile-ready with no additional effort and handle every regional and use case permutation.
GET STARTED
Talk to an Automation Expert
Our business process automation experts can answer your business and technical automation questions.