SOLUTIONS BY APPLICATION INTEGRATION
Enterprise Resource Planning (ERP)
Seamless Integration of All Your Business Processes
Enterprise Resource Planning (EPR) systems are a great solution but, often times they are not enough. Many business processes exist outside the application and cannot be managed by a single application. ERP systems provide great benefits for specialized, high value transactions they were designed to control. However, companies also have many cross-functional processes that exist "outside" the application. This is where BPM steps in. In the BPM ecosystem, large enterprise applications handle certain, specialized processes while Ultimus BPM is added to manage full business process optimization including process that:
Are Cross departmental
Require more agility
Need the ability to respond to exceptions and change
Sample Case - Transportation Ecosystem
Like most industries, the transportation ecosystem does not rely on one single mode of transportation to deliver all its needs. This diagram lays out a cost and need pictorial for the transportation industry.
Business processes are like the transportation hierarchy. Highly specialized applications, need a true BPM system to optimize their organizational processes.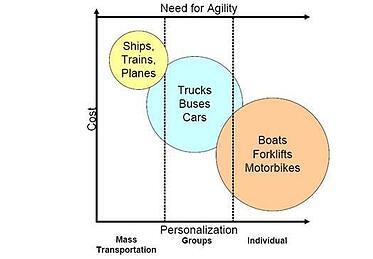 GET STARTED
Talk to an Automation Expert
Our business process automation experts can answer your business and technical automation questions.