In this report, MWD Advisors, a leading technology research and advisory firm that shows how digital technology changes work, assesses the capabilities of Ultimus' Digital Process Automation Suite and examines the benefits that Ultimus can offer customers exploring associated technology implementations.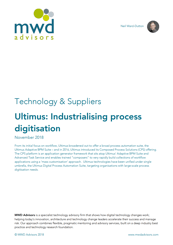 Excerpt:
From its initial focus on workflow, Ultimus broadened out to offer a broad process automation suite, the Ultimus Adaptive BPM Suite – and in 2016, Ultimus introduced its Composed Process Solutions (CPS) offering. The CPS platform is an application generator framework that sits atop Ultimus' Adaptive BPM Suite and Advanced Task Service and enables trained "composers" to very rapidly build collections of workflow applications using a 'mass customization' approach. Ultimus technologies have been unified under single umbrella, the Ultimus Digital Process Automation Suite, targeting organisations with large-scale process digitization needs.
Download this free report by highly respected UK analysts, for product analysis, in-depth recommendations, and to learn how Ultimus can transform your enterprise into a streamlined, digital business.
© MWD Advisors 2018