There are many
best practices
to consider when implementing a BPMS or any other major system; however, the ultimate goal in any BPM project is to retain and improve the quality and integrity of the process, especially when it comes to healthcare.
Hospitals are giant system networks, and depending on their size, they can consist of several thousand desktop computers and hundreds of integration points. This being said, there is no room for error in transitioning between systems and processes. As healthcare providers rely on various applications to carry out their daily tasks and deliver correct and effective treatment, it is imperative that the transition between systems, applications, and processes is as seamless as possible. When it comes to someone's life lacking in quality of care is not an option. This is where BPM (Business Process Management) adds value.
BPM Software has the ability to ensure process quality and integrity is maintained in the transition and operation of various systems, through four key steps:
In implementing a BPMS to facilitate systems integration and the transition from manual, paper-based processes and records to Electronic Medical Records (EMRs), modeling and automation play a significant role. Process modeling and automation allow you to do more than just map out your day to day processes; they allow you to test your automated process in a virtual environment to discover process bottlenecks and potential areas of systems disconnect. Testing the reliability of your processes in a virtual environment is crucial as it helps ensure quality and accuracy in its execution. Moreover, in preparing your transition to EMRs, it is essential to allot the necessary time for process testing and revision. It's when system rollouts are rushed that quality is jeopardized and your hospital risks losing the interoperability between systems and applications.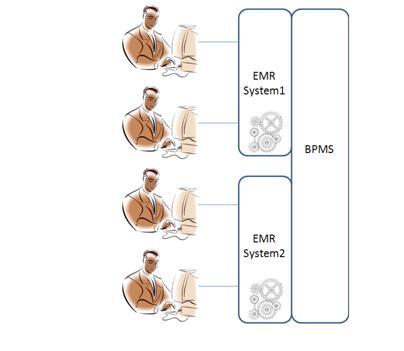 Once tested and implemented, a BPM Suite works to coordinate information across systems, unify task lists, and integrating data across the various applications. When you expand this integration outside of the Healthcare Provider's office to integrate with other Healthcare Providers, you can see how the networks and bridges can come together.
Relevant Links:
Getting Started With Your BPM Project
Healthcare Providers Cannot Afford To "Directly" Use BPM Systems, but...
Making the Most of Technology in Healthcare
Mary Katherine Strupe
Marketing Coordinator
Ultimus