So your company has identified BPA / BPM as a key initiative for the coming new year and you have been identified as the "process champion" to evaluate the applications and suites available. The majority of BPA and BPM vendors today offer free downloads or time trial installations (web or on-premise) of their process modeling applications. It is certainly convenient and helpful that so many BPA / BPM applications can be obtained (sometimes without even completing a registration form). But do you really know what to evaluate in these tools? Do you have enough insight to be able to discern what really differentiates these tools?
From a technology perspective, all tools inside and outside of the BPA / BPM spaces promote themselves as "easy to use" and having "drag and drop" capabilities. Arguably, if the tool you are evaluating right now does not have either of these capabilities, then why are you even evaluating it? Moreover, many of the process modeling and automation tools can perform similar functions and include the fundamental basics of process mapping.
What differentiates the seasoned BPA / BPM vendor's process modeling and automation suites from software companies who just happen to offer process tools is their ability to guide the user through successfully creating, modeling, and executing processes. You already have too much to do with your day to day job. If you have to take time out of your day to learn a new application bottom-up, then you run the risk of not properly understanding the benefits the tool offers, while also getting behind in routine activities. When evaluating the new BPA / BPM tool, you should not have to ask yourself questions like:
How do I get started with the tool?
What is it that I am really striving to accomplish with the tool?
What are the basics of process mapping and process modeling?
Am I using the tool the way it is intended?
Ultimus' new
Process Designer Test Drive
solves all of the headaches of classic software evaluation. Aside from overcoming the frustrations of installing unknown software on your machine, Ultimus' hosted process modeling environment provides the latest Web 2.0 features and functions to guide you through success with process modeling. Video led instructions, rich and graphic driven step-by-step help, and pre-loaded processes samples and modeling data allows you to see
process modeling
success right before your eyes.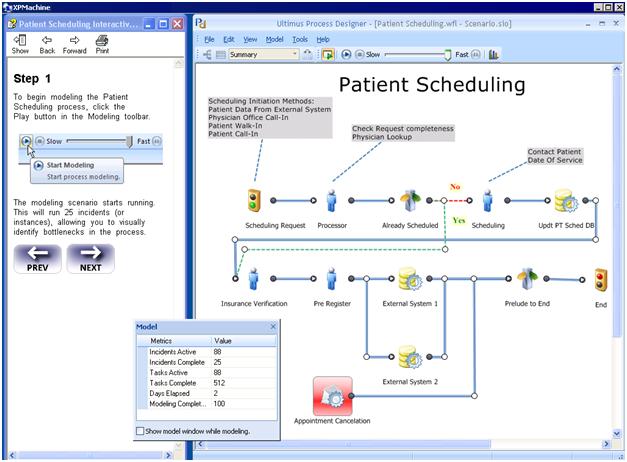 As an additional benefit, you have access to one of Ultimus' own Process Experts who can assist you one-on-one in your own personal hosted environment to build and model the processes pertinent to your own industry. Ultimus provides numerous process templates in the Health Care industry, and Ultimus' "Patient Scheduling" process is one example of many processes that are available today to be modeled and tested in Ultimus' Process Designer hosted environment.
Have you been frustrated with downloading and evaluating new process modeling tools in the past? Even after installing the new tool, were you even sure you were taking full advantage of the tool's capabilities?
Relevant Links:
Mitigate Risk by Modeling Your Business Processes
Getting Started with Process Modeling
Business Processes: Recognizing You Need Business Process Improvements
Ultimus Is Excited To See Process Modeling Usage Growing
Chris Adams
VP Product and Technology
Ultimus