Business process efficiency is often described as executing your business processes quickly from start to finish. Understanding process efficiency is to understand what is involved in executing each step in the business process itself.
Users participate in business processes via web based forms by reviewing and inputting data in the forms. Most business processes have some required data inorder to ensure the processes flow correctly from step to step. Ensuring the process participants are able to navigate and use the process forms as quickly as possible drives process efficiency. From a bottom up approach, inspecting the data input and user interface (UI) interaction can reveal undiscovered process inefficiencies.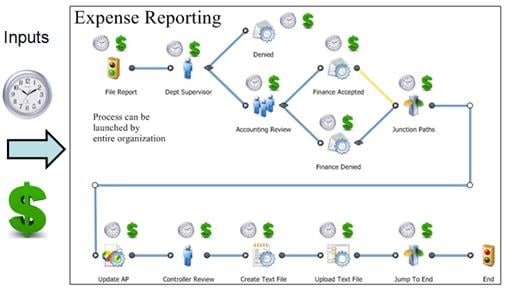 Consider the following possibilities:
Data collected in a process step is inputted but not checked and verified. The step is submitted and forwarded with incomplete data....only then to be returned because of the incomplete state of the data.
Vital data fields in the web form, such as Part Numbers or PO Numbers, are keyed in manually (introducing human error potential) rather than chosen from automatically populated pick lists.
Tasks, where required data is hard to find, are pushed aside and selectively not worked on (while "easier" process tasks take priority).
Attachments vital to the process itself, for example enrollment applications for Credit Cards, are not attached to a step in the process.
In each of these cases, having a powerful but easy to use form
design tool
obviates and overcomes each of these trouble scenarios. Providing intuitive and rich form UI experiences ensures greater process adoption with your process participants and streamlines process efficiency. A quality forms design tool should include functions such as:
Supporting both mouse driven form navigation as well as tab driven navigation

The ability to make controls in the form required
The ability to make controls in the form selectively hidden or visible
Prohibiting the form to be submitted forward until all required controls in the form are populated and/or required documents are attached to the process step
Form controls having defined masking formats (ensuring date values are entered into date controls and money values entered into money controls)
Security features within the forms, such as electronic signatures (to authenticate that the correct person indeed reviewed the data in the form)
It is essential to design easy-to-use and efficient user interfaces for your business processes. Cumbersome and unintuitive user interfaces results in slow process time, more expensive day-to-day operations, and ultimately dissatisfaction for your process participants.
Relevant Links:
Expanding Business Process Communications Outside Your Office
Building Your Ultimus V8 Process Library Quickly: Reusable Process Libraries
Avoid Investing in Workflow in Non-Workflow Applications
Controlling Process "Rework" with Lean Six Sigma Practices
Chris Adams
VP Product and Technology
Ultimus