As healthcare reform discussions progress, so does the visibility into the amount of money that is being wasted in healthcare each year. A recent report on the U.S. Healthcare System suggests that $505 to $850 billion is wasted annually on preventable mishaps and inefficiencies. The chart below highlights common money pitfalls in the healthcare industry.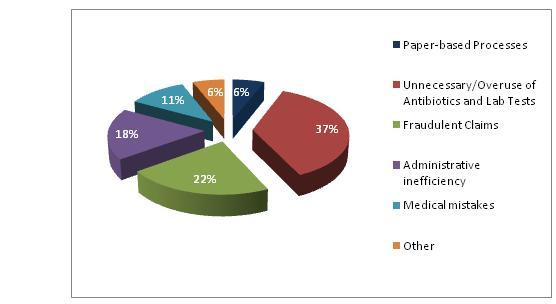 Many of the pitfall areas noted above involve process rework and redundant activities that can easily be avoided with the implementation of a quality process automation system. With process automation or Business Process Management (BPM) software, healthcare providers have the ability to model, automate, manage, and optimize key processes to eliminate inefficiencies and increase visibility.
As you can see from the chart, 37% of wasteful spending is on unnecessary testing and overuse of antibiotics. This refers to tests that are performed multiple times to avoid malpractice, negligence of testing, and error prone reporting. Using BPM to automate testing and reporting procedures, healthcare providers are able to eliminate the need for unnecessary, repeated testing, and overuse of antibiotics. With standardized forms that capture data electronically and can auto-populate other pertinent medical forms and records, negligence is greatly reduced. From the point that the data is captured throughout the rest of the process (and ultimately patient's history) the results are documented as well as the treatments and dosages prescribed.
Taking electronic forms and reporting to another level, CIO Magazine reported one hospital that has already implemented BPM has seen a significant improvement in reducing the workloads of nurses. Automating such processes as patient evaluation, medical record documentation and clinician notification has allowed nurses to eliminate the need to "manually send 354,000 text pages to the in-house beeper system and 160,000 text-to-speech telephone calls" (Chester County Hospital) allowing them to spend more time on the quality of care they provide to patients.
With growing demands of high quality, operational excellence, and reduced healthcare costs, what is your hospital doing to improve efficiency? Have you considered BPM Software as a solution?
Relevant Links:
Hospitals: Attempting to Save $155 Billion
Getting Back to What's Important
Healthcare Providers Cannot Afford To "Directly" Use BPM Systems, but...
Mary Katherine Strupe
Marketing Coordinator
Ultimus