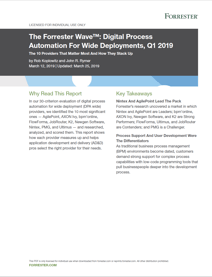 This Forrester Wave™ evaluation highlights a market in transition. "As the old BPM market disappears, it is being replaced by vendors that focus on rapid development, fast realization of value, and deep participation from business stakeholders".

In their report, Forrester notes that "The role of process in successful digital transformation continues to grow, and the sheer volume of software it takes to address the overall requirements for it is exploding."

Forrester's digital process automation for wide deployments (DPA wide) category is "all about rapid development of process applications" and low-code tools focused on driving up adoption through lower cost and complexity.

Fill out the form and download this complimentary report to learn about the Ultimus software factory approach to digital process automation, how it measures up, and what Forrester recommends AD&D professionals look for in a DPA wide platform.